From 11th to 14th October 2018, commissioned by LABELHOOD, a designer-supporting platform and creative extension of the Shanghai Fashion Week, together with ExhibitingFashion.org curated "New China Chic: A Fusion of East and West". The exhibition that took place at the 'Power Station of Art' museum in Shanghai was sponsored by BONAVERI with Aloof and Noble mannequins.
The exhibition "New China Chic: A Fusion of East And West" aims to examine contemporary Chinese fashion designers'works and particularly the "Chineseness" within them, questioning how one's cultural roots will haunt his/her creations within the west-centric global fashion system.
This exhibition is arranged thematically into five sections: "East/West", "Floating Signs", "Haunting Shadows", "A Perfect Combination", and "Documentations".
Designers and brands featured in include VIVIENNE TAM, RYAN LO, UMA WANG, JINGWEI YIN, HUISHAN ZHANG, XIMON LEE, ANGUS CHIANG, XANDER ZHOU, XU ZHI, ANGEL CHEN, QIUHAO, PRONOUNCE, SAMUEL Guì YANG, SNOW XUE GAO.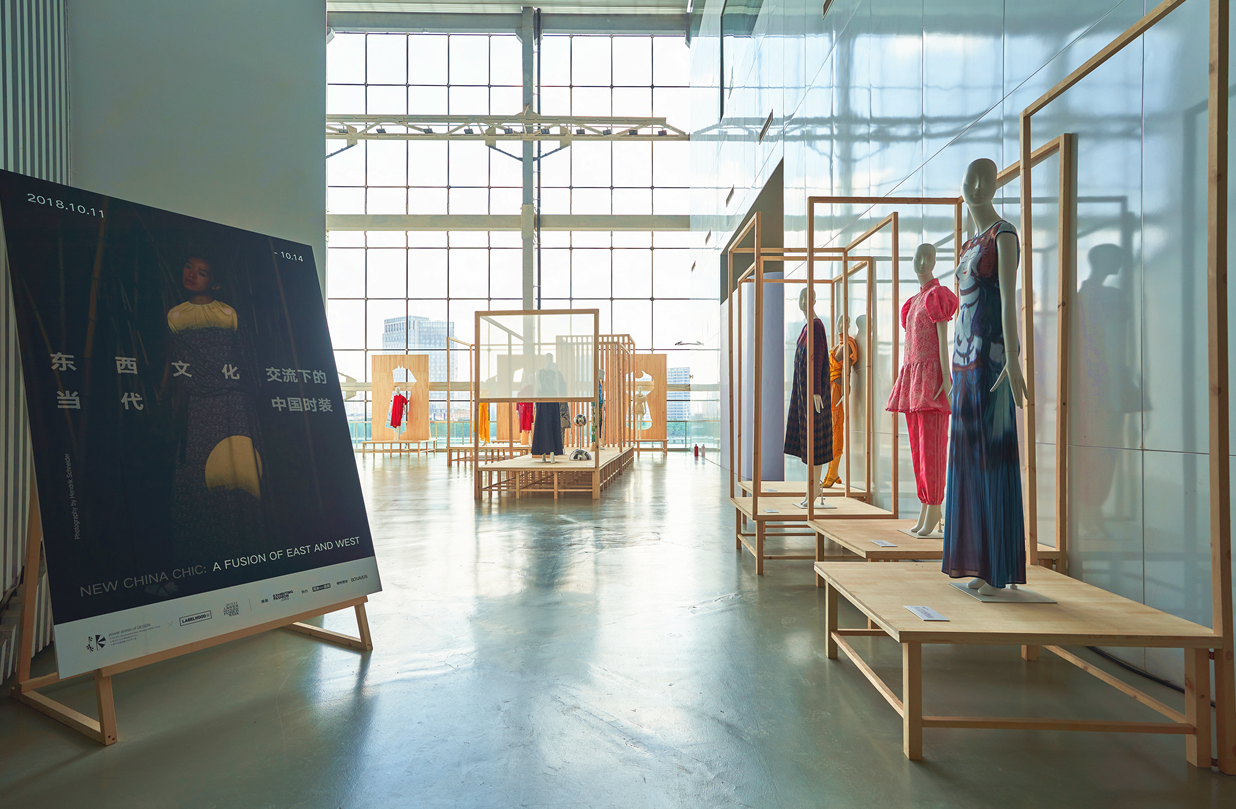 East/West
East/West features Chinese designers who are based overseas and presenting their collections in New York, London, Milan and Paris fashion weeks on a regular basis. The comparison between the chosen exhibits shows how different aspects of "Chineseness" slowly emerged throughout the time and space, as indicated by the installation panels themselves whose length is also gradually increasing.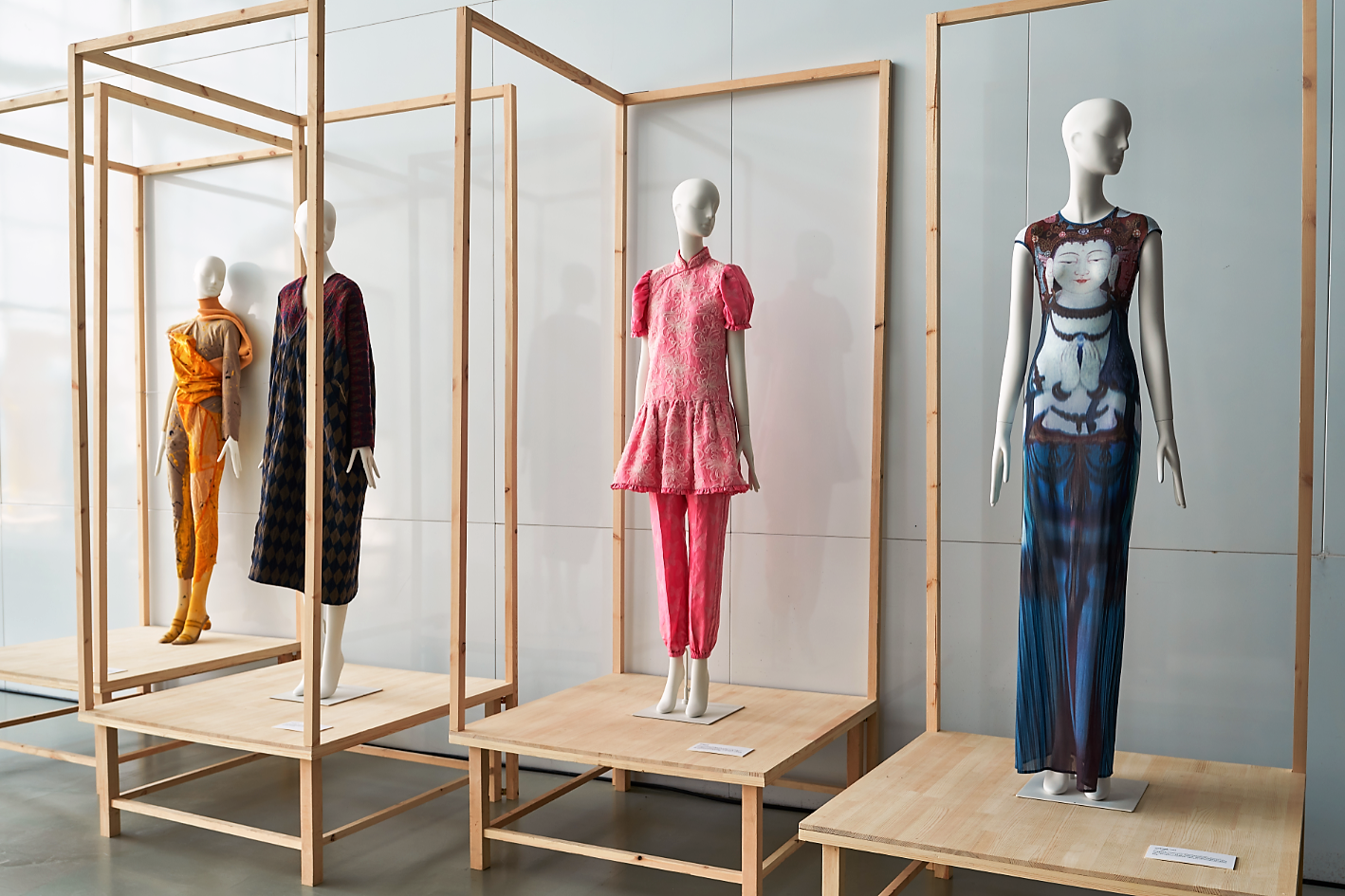 Floating Signs
Floating Signs explores how traditional Chinese motifs and elements are breaking away from their original cultural context and becoming free signs for designers to apply on a surface and aesthetic level.
Hauting Shadows
Haunting Shadows focuses on how the silhouette and cutting of three typical traditional Chinese costumes (qipao, Mao Suit, minority people costume) are leaving a long-lasting impact on contemporary designs.
For this section, the curator Pooky Lee especially commissioned Los-Angeles based illustrator Decue Wu to create three special illustrations with the works from SAMUEL Guì YANG, Qiuhao, PRONOUNCE as inspirations. The illustrations were then cut out in backboards placed behind the exhibits, as a metaphor of the past haunting the present works.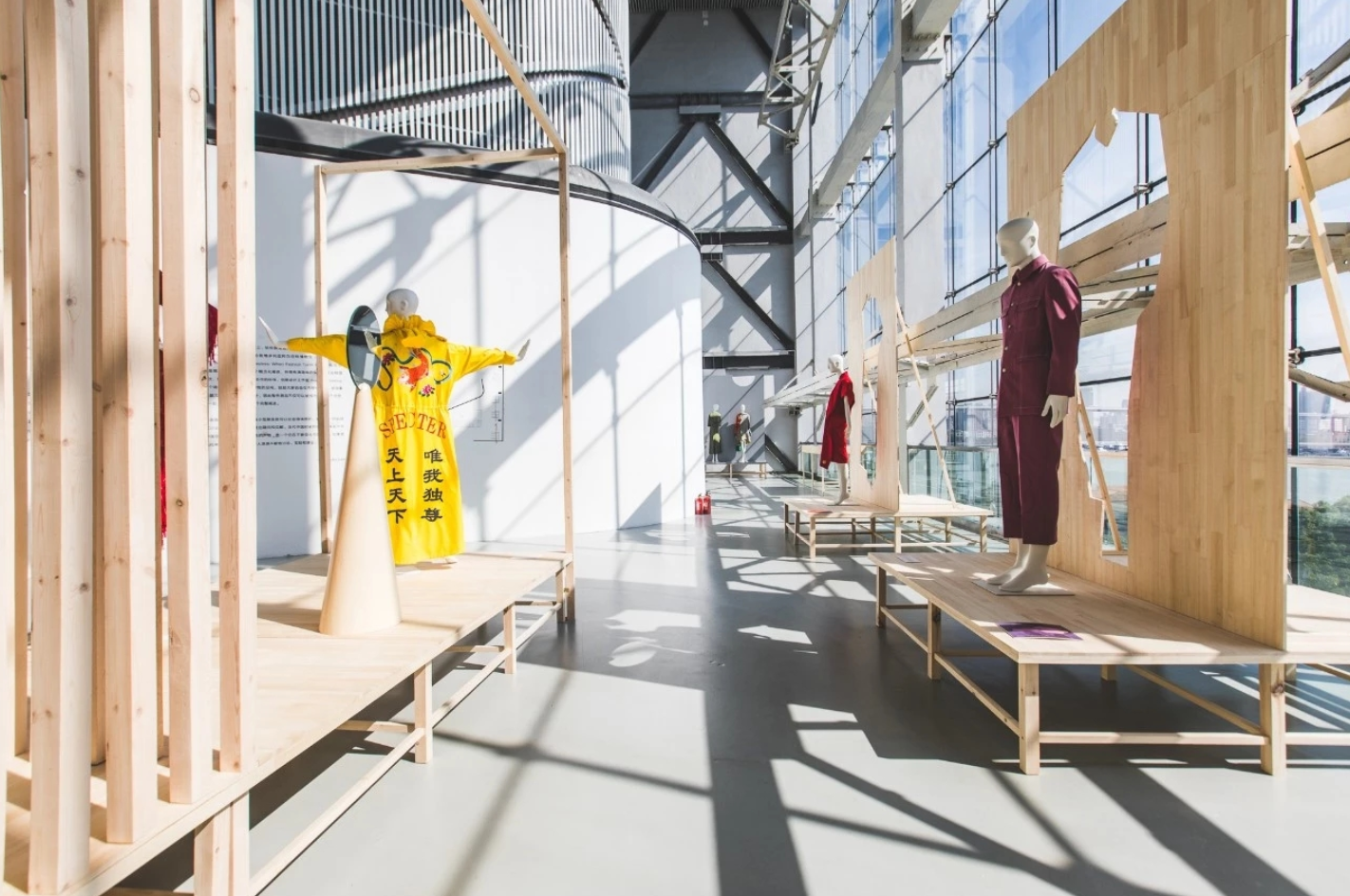 Perfect Combination
Perfect Combination summarizes two current attitudes towards embedding Chinese themes into fashion. The Moon-watching dress designed by SAMUEL Guì YANG, for example, is in harmony with the installation itself, a backboard painted in dark grey and above a semicircle cut out as the moon.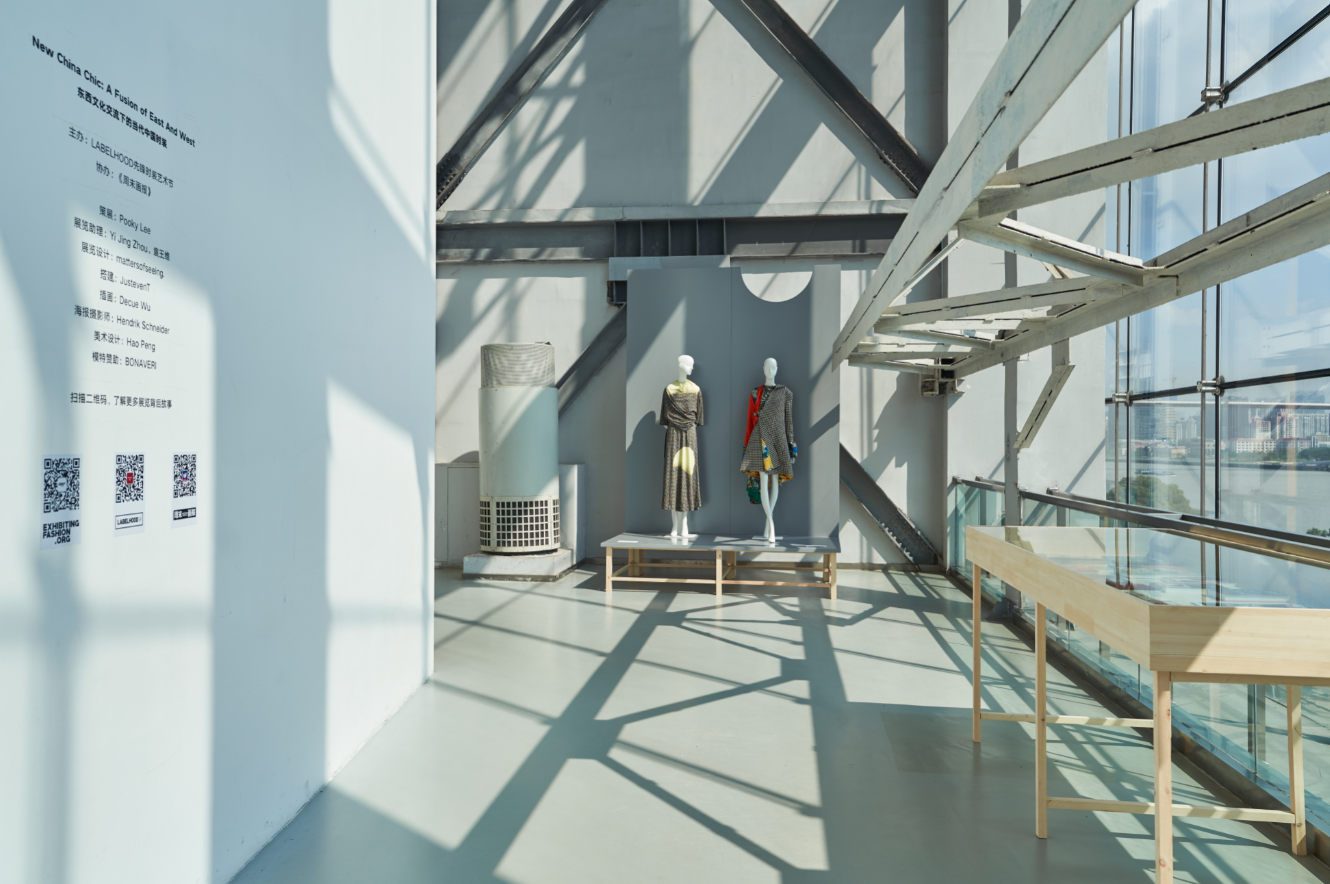 Documentations
This segment showcases important academic works, media coverages, exhibition catalogues and special magazine issues that documented the moments when east and west meet in fashion.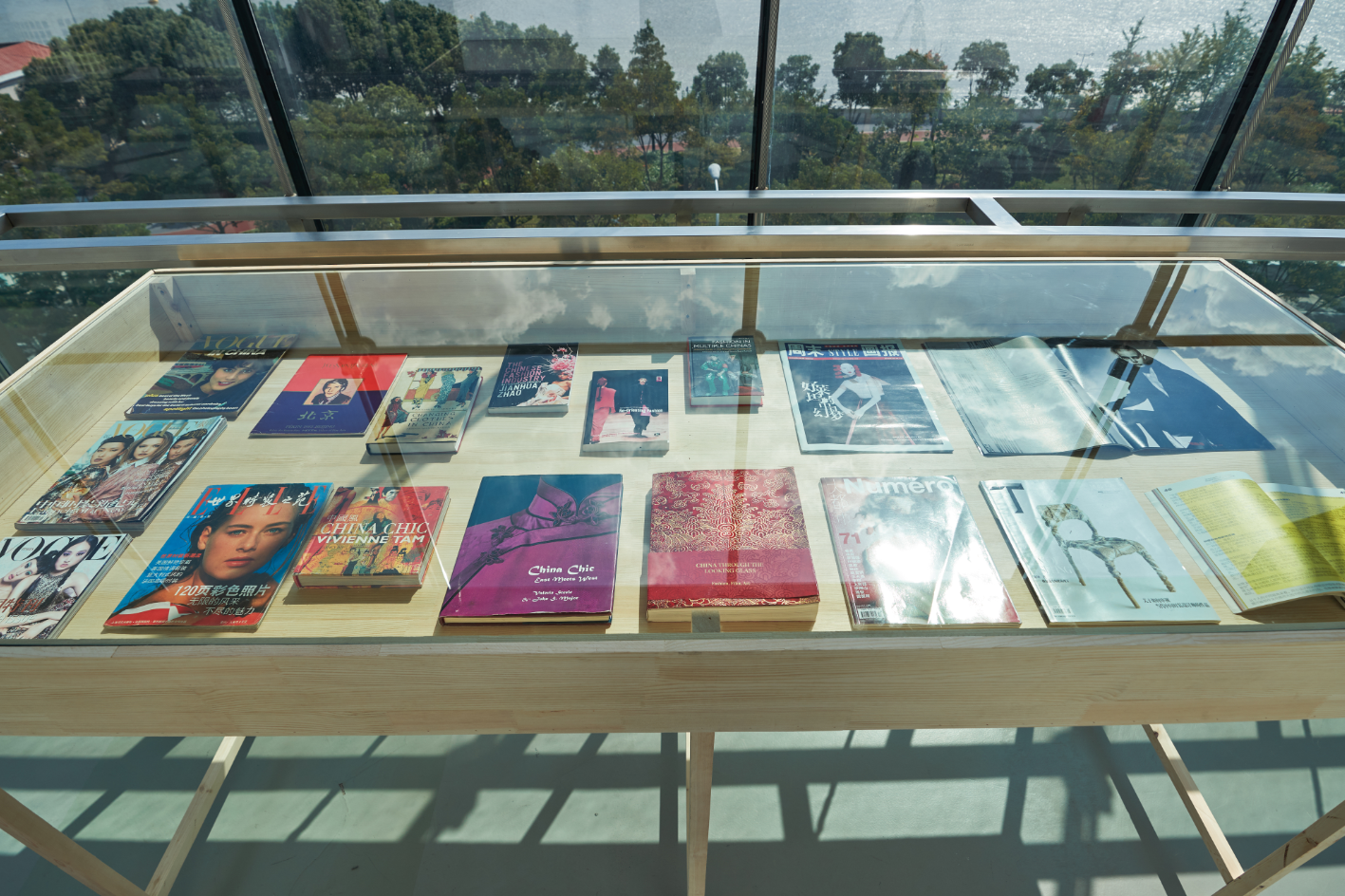 Regarding the exhibition structure, the layout is designed in a open space, encouraging the audience to walk freely within it in order to reinforce the importance of the fluidity of cultural exchanges. The exhibits are of course the most important artifacts, though the installations that hold the dresses are also helping complete the narratives of each section, offering the viewers with more ways to reflect upon.
New China Chic: A Fusion of East And West
Curator :Pooky Lee
Assistant:Yijing Zhou, Wangwei Yuan
Exhibition Design:mattersofseeing.
Construction:JustevenT
Illustrator:Decue Wu
Poster Photographer:Hendrik Schneider
Art Direction:Hao Peng
Mannequins Sponsor:BONAVERI
Photographer:Chunmiao Wang, Yao Yuan