HELD BETWEEN JUNE 12TH TO 15TH 2018
PALAZZO PUCCI VIA DE' PUCCI 6 FLORENCE
Bonaveri – A fan of Pucci is a tribute to the creative spirit of two of Italy's leading fashion & design houses.
On the occasion of Pitti Uomo, Bonaveri and Pucci have come together to celebrate a shared vision of creativity and craftsmanship.

Palazzo Pucci in Florence was the backdrop to a spectacular exhibition of Bonaveri mannequins and bust forms all dressed in garments from the Pucci archive.
Conceived by creative director Emma Davidge, the exhibition is a showcase of Italian craft, style and creativity.
The Courtyard
A giant mannequin in the Palazzo Pucci courtyard watches over five Schläppi pieces designed in the 1970s, all painted in Emilio Pucci's iconic 'Vivara' print.
The Runway
Bonaveri Sartorial mannequins are the front row guests at a runway show. Each one is individually finished in classic Pucci colours, wearing bags, scarves, hats and jewellery from the Pucci archive.
The Archive Room
Just off Emilio Pucci's former study, Mannequins from Bonaveri's Tribe and Schläppi 4000 Junior collection are displayed in garments from the Pucci Archive.
The Art Room
In this ironic and humorous display, Bonaveri and Pucci have come together to showcase their respective artistic skills. Each piece draws inspiration from key moments in Pucci's heritage, using both vintage and current Bonaveri mannequin collections.
The Atelier
Bonaveri is proud to support the advancement and preservation of traditional artisan skills. The Atelier, located in Emilio Pucci's former studio, illustrates the craftsmanship applied in creating Bonaveri's products.
The Balcony
A beautiful outdoor installation on the stunning rooftops of Florence.
Facts & Figures
115 Mannequins, 31 Busts, 100 Miniatures, 1 Giant, 360 Kilos of Paint, 609 Metres of Fabrics, 97 Different Colors, 27 Pucci Prints Used, and much more.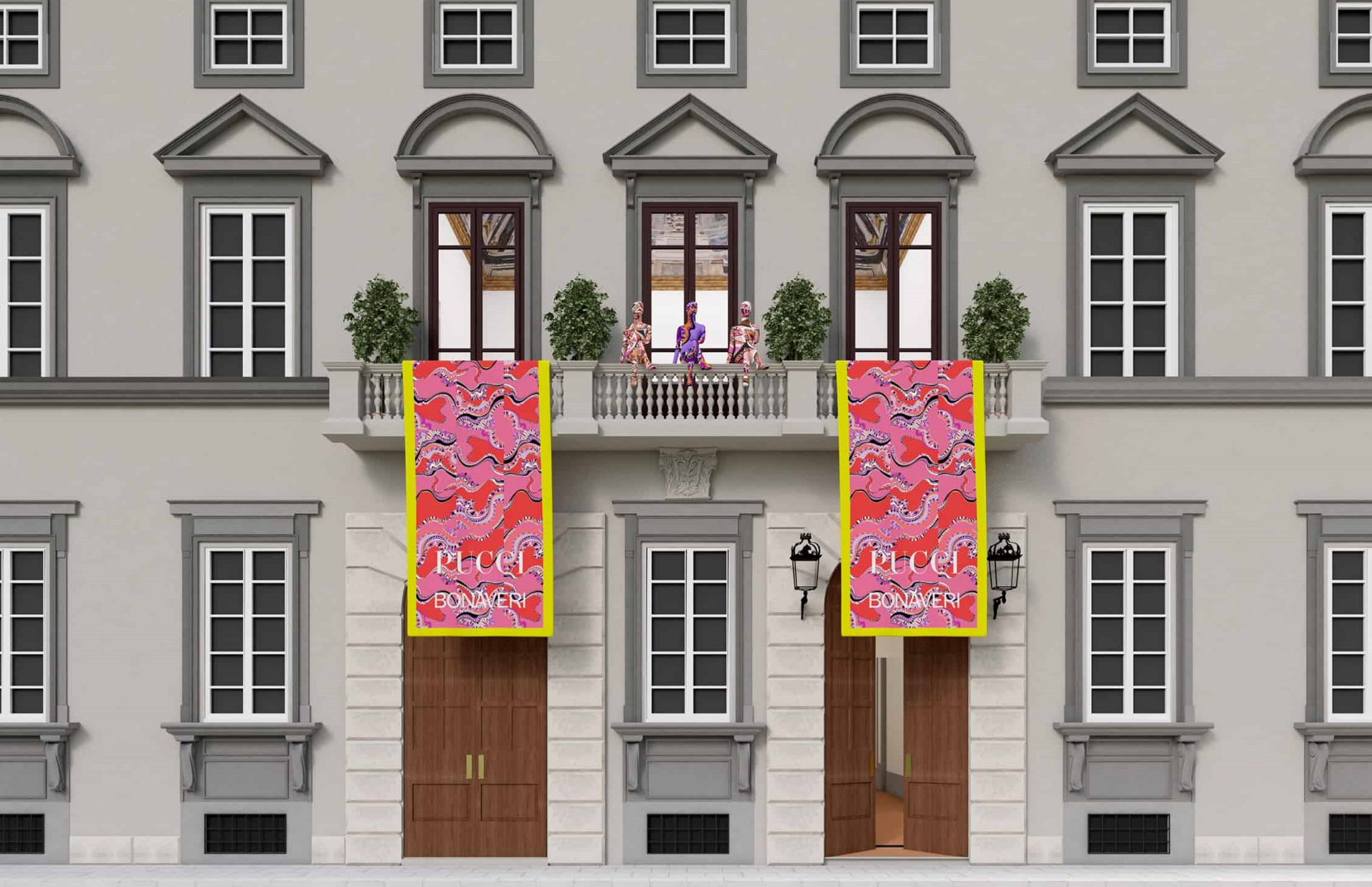 Art Direction: Chameleon Visual
Photo: Lapo Quagli — Lorenzo@studioquagli
Film: Satore Studio
Special thanks for the Art Room at Mary Fashion
Sponsor: Illy — Sanpellegrino — Ferrari
Bonaveri, a fan of Pucci
from 12 to 15 June
Palazzo Pucci – Via De 'Pucci 6 – Florence
On show, from 12 to 14 June | 10.30 am – 8.00 pm
June 15 | 10.30 am – 6.00 pm