The EP YAYING Fashion & Arts Centre is a commitment to art and culture and especially to Chinese heritage and contemporary Chinese fashion.
The Centre, built by EP YAYING Fashion Group along 5 years, occupies a total area of 37 acres and a floor area of 25,000 square meters, being comprised of the group's headquarters, EP YAYING's flagship store, a library and the EP YAYING GALLERY, a space integrated of culture, ingenuity and creativity, which represents their searching for the origin of beauty and their interpretation of art creation.
With an area of 2400 square meters, EP YAYING GALLERY includes EP YAYING Fashion Clothing exhibition hall and EP YAYING History and Culture exhibition hall.
BONAVERI is honored for having been chosen by EP YAYING Fashion Group to supply the mannequins specifically customized for the EP YAYING Fashion Clothing exhibition hall. Over one hundred of BONAVERI's bespoke Sartorial mannequins are dressed with EP's beautiful clothes to display the more than 30 years of the brand's history.
The elegant bespoke Sartorial mannequins feature articulated wooden arms and customized feet wedges are added to complement the looks.
The EP YAYING Fashion Clothing exhibition hall displays EP YAYING greatest selection over the years, and reveals the everlasting beauty by being creative over traditional aesthetics.
Throughout the ages, people have been searching for the origin of beauty. From objectivity to subjectivity, from morality to belief, from monism to pluralism, beauty comes in different forms and has its own systems. Chinese philosopher Zhuangzi once said, "Heaven and Earth have great beauty but remain in silence". EP YAYING was born for beauty with great passion and concentration.
In the more than 30 years since its founding, EP YAYING continues to strive for evermore beautiful creations by inheriting the essence of Chinese culture and aesthetics that has over five thousand years of history, riding the majestic tides of China's economic reform and opening-up, and devoting to the Chinese cultural rejuvenation across generations.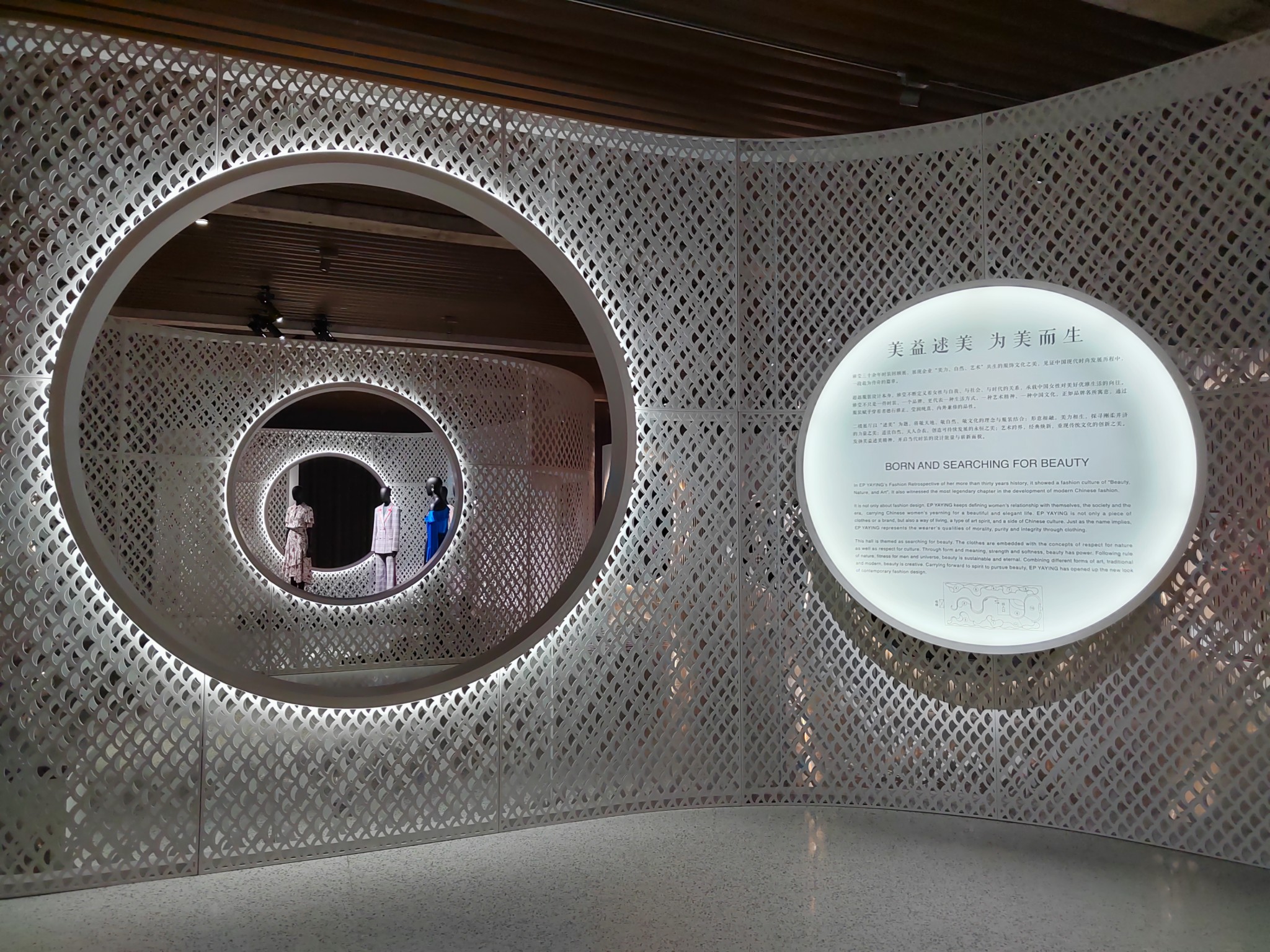 The EP YAYING Fashion Clothing exhibition hall, where the BONAVERI mannequins are displayed, is themed as searching for beauty. The clothes are embedded with the concepts of respect for nature as well as respect for culture. Through form and meaning, strength and softness, beauty has power. Following rule of nature, fitness for men and universe, beauty is sustainable and eternal. Combining different forms of art, traditional and modern, beauty is creative. Carrying forward to spirit to pursue beauty, EP YAYING has opened up the new look of contemporary fashion design.
The History and Cultural exhibition hall of EP YAYING GALLERY features hundreds of objects, documents, photos, and film materials stored for many years in the brand's archive. Here, fashion and culture, aesthetics and technology, arts and craftsmanship fuse in a fascinating way, as the exhibition explores EP YAYING's heritage and its enduring influence on "Chinese fashion" and "feminine beauty".
The exhibition space is inspired by the Peony, China's national flower, a symbol of nobility and elegance; whilst also paying homage to the handscroll of Chinese traditional literature, with each display space representing a continuous and seamless component-like the petals of a peony or images painted on unfolding rolls of varying lengths-bringing shifting views that are either distinct, emergent, or reinforcing, as if one is taking a cultural stroll through time.

Born out of the alluring elegance of Jiangnan, EP YAYING tells a magnificent story of beautiful China. Devoted to its philosophy of Balance, Love and Happiness in life, EP YAYING blends traditions and modernity, Western and Oriental aesthetics, to capture the diverse influences of contemporary urban lifestyle, that make up the sophisticated, elegant and confident women image of today.
It is not only about fashion design, EP YAYING keeps defining women's relationship with themselves, the society and the era; carrying Chinese Women's yearning for a beautiful and elegant life. EP YAYING is not only a piece of clothes or a brand, but also a way of living, a type of art spirit, and a side of Chinese culture. Just as the name implies, EP YAYING represents the wearer's qualities of morality, purity and integrity through clothing.
THE EP YAYING GALLERY
CURATOR:
EP YAYING Fashion Group Arts and Culture Department
EP YAYING
EP YAYING Fashion Group Corporate Communications
CREATIVE PLANNING:
MA+Group (Patrick Kinmonth, UK)
VISUAL MERCHANDISING AND DISPLAY:
LESMOR Creative
Juno Marketing Communications
Nanhai Production
Audiovisual Artist, Zhou Zi Han
Eliyar Art Lighting Design Studio
MANNEQUINS:
BONAVERI
Photography by Patricia Qian